Betty M. Senger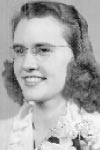 Betty Mae Arthur Senger, of Bridgton, Maine, passed away in the early morning hours of October 8, 2011 at Bridgton Hospital.
Betty was born on July 8, 1925 in Windsor, Conn. Her parents were Jesse and Selma Arthur. She was married on August 18, 1945 to Robert I. Senger, a returning war veteran.
Betty and Bob settled in Simsbury, Conn., where they raised four children. They retired to their home on Foster Pond in So. Bridgton in the summer of 1990. In addition to her devoted husband of 66 years, she leaves her children and their families: Donald Senger and wife Lisa of Dover, Mass., James Senger and wife Linda of DePere, Wisc., Betty Scoville and husband William of New Hartford, Conn., and Robert Senger andwife Ruth of Simsbury, Conn. She leaves to cherish her memory five grandchildren, and one great-grandchild. They are Jeffrey Senger (wife Christy), Andrew Senger (wife Amanda), Robert M. Senger (wife Yuka), Kimberly Senger and Katelyn Senger. Great-grandchild Steven lives in Tarrytown, N.Y. with his parents Robert & Yuka.
She is survived by her sister Jean Hotchkiss of Wittingham, Vt.
She loved her life in Maine and liked to travel, her favorite destination was England. She was a devoted wife, mother and grandmother and will be sorely missed by all. Her tremendous spirit will always live on.
Visitation for friends and family was held at Chandler Funeral Home in Bridgton and burial and committal services were held at South Bridgton Cemetery.
Please follow and like us: