Bella Point/DLTC buys Hicks Family Services; healthcare facilities change 'model'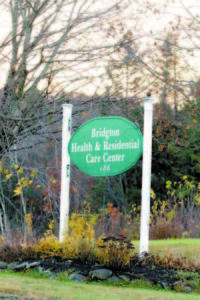 By Wayne E. Rivet
Staff Writer
When David Hicks awoke Tuesday, his life had changed.
After dedicating most of his life to taking care of the needs of people, especially the elderly, Hicks realized he no longer had a job.
"It was very strange," he said.
Tuesday marked the change in ownership of Hicks Family Services Inc. — which operated nursing home facilities in Bridgton and Fryeburg for over four decades — to Bella Point Healthcare/DLTC Inc., based in Rockland. The company operates 13 facilities across Maine. The sale includes Hicks' facilities in Auburn and Freeport.
"We're at a point where my wife and I are in our 70s, the kids have been working with us for most of their lives in the business. It got to the point where it seemed like we were just kicking the can down the road. In order to stay operating, we had to basically take money out of our personal retirement fund. When we finally exhausted all of our resources personally, we just said we can't keep kicking the can down the road anymore," Hicks said. "It's time for another company to come along and take over or we're just having to close the facilities. We didn't want to go through the same problems that Ledgeview had over in West Paris. So, we worked it out with Camden Bank, which was our financer, and we found Bella Point/DLTC Healthcare. It gives my wife and I a chance to look at retirement."
The sale ends a family-run operation that started when David Hicks was just a little boy.
"My grandmother started in the nursing home business by working with a lady who was taking care of two or three older ladies. My grandmother was a housekeeper. She didn't like the way that lady was taking care of them, so she moved them into her house (in Auburn). She had four to five people, and was also taking care of me because my parents were working," Hicks recalled. "She hired an ambulance and moved to Fryeburg."
The home she bought in Fryeburg was a childbirth home.
"It was on the way to the hospital; if you couldn't make it to the hospital, the doctor would meet them at the old Blake home and that's where the baby was delivered," Hicks said. "It's always been about family."
Fryeburg Healthcare was built in 1977, and Bridgton followed in 1985. Each center has been a "multi-level" facility, offering nursing home beds, as well as residential care (assisted living) beds.
When Hicks entered negotiations with Bella, he learned that the potential buyer planned to discontinue the nursing home license and solely offer assisted living services.
"DLTC Healthcare is a little different model than we were used to. I grew up with a nursing home. That's all I have ever known. We did expand our services. The state changes its regulations for qualifications for nursing home care. To fill empty beds, we changed and developed assisted living — residential care. So, we had a wing of residential care and a wing of nursing home care," Hicks said. "What surprised me with the Bella model of assisted living was the fact that when talks started about selling, I felt they couldn't close the nursing home, which had been in Fryeburg for 65 years and Bridgton for 40 years. They need nursing homes in that area. They said 'don't worry about it, our model takes care of that.' I tried to keep an open mind."
Bella officials visited the Bridgton and Fryeburg facilities and did an assessment with staff.
"They decided that for almost every one of the residents that were in the nursing home qualified for their level of assisted living. It's more of the term 'aging in place' so they will take care of a high level of residents without the nursing staff. They have three or four licensed nurses on their payroll, which are on call, so they are a resource to the staff there now," Hicks said. "They don't have all the licensed staff because the regulations for assisted living are different. Med techs and aides are doing all of the work."
Fryeburg Health Care had two or three people who were discharged mostly because two of them were VA patients, and the VA wants nursing home care, not assisted living, Hicks noted. So, those residents were discharged to another facility.
Bridgton Health Care had "one or maybe two" people that didn't qualify for the level of care and new placement was found.
Fryeburg has operated at a capacity of 74, but will now be licensed for 60 assisted living (Level 4).
"They got a waiver to be able to keep all of their current patients, which is 61 or 62," Hicks said.
Bridgton will be licensed for 59.
"Right now, they are at 35 to 40 because many want to go to another location closer to their families, many of which are in the Portland area or Downeast," Hicks said. "We had several that wanted to go to Ledgewood in Windham. Several families wanted an RN on duty more hours than what they would see with assisted living, so they transitioned to other facilities. It took two to three weeks to make that transition."
The transition went much smoother than Hicks anticipated.
"In the whole scheme of things, it wasn't too bad finding other facilities. I thought it would be extremely tough, especially if other facilities were filling up. We can place people 50 to 60 miles from the facility. After 10 to 15 days of notice of discharge, unless you have found a place, you have no choice where you are going to go," he said. "We never ran into where someone was forced into something they didn't want to do. I thought it might take months."
Initially, talk of a potential sale and "closure" of the nursing home created fear amongst residents' families regarding where loved ones might be headed.
Terminology created some confusion, Hicks said.
"Unfortunately, the way the regulations are set up, we had to tell everyone that we were closing, which is what the public notice (in the newspaper) said. We're closing the nursing home — doing away with the nursing home license, which gives a level of fear. When we had our little family meeting in Bridgton, the families were wondering what were they going to do? Where are we going to go? As soon as Bella explained their method of operation; they said they were going to have the same staffing pattern as we did with aides and med techs, they're just not going to have the licensed nursing coverage. Instead of five or six licensed nurses every day, there will be one — the director of operations. They will have to rely upon 9-1-1 more often, but that's assisted living," Hicks clarified. "People that are in the hospital and need nursing home care, Bella will evaluate them and decide if it is someone they can take care of. If not, the hospital will have to find a facility that has 24-hour nursing supervision."
When Hicks was given the template to write the closure plan, he knew that the Bella people said that most of the residents would be able to stay. When he wrote the closure plan, Bella already had determined that everyone was going to be able to stay at the facilities.
"So, I wrote the closure plan saying we're closing the nursing home, but they (Bella) were going to reopen and you don't have to move. The state came down on me telling me I couldn't have a closure plan like that. You can't sell them (residents) another facility when they have the right to go wherever they want to go. So, I had to write it 'we're closing' and here's a list of facilities you can go to, which included Bella. We had a family meeting, and apologized upfront that regulations are regulations," he said.
Families and residents were relieved.
And so was David Hicks.
"As a family-run business, we have always been pretty focused on our residents," he said.
Hicks admitted that staffing and state reimbursement issues forced him to look at selling the operation.
"We ran into a situation where there was a dry spell in our admission process from January to June, there were a lot of empty beds. Most of the time, empty beds are related to us not being able to staff all of the beds. Staffing has been difficult over the years," he noted. "We've been lucky in the Fryeburg/Bridgton area because we've had a good relationship with the school system, and have gotten a number of our CNAs out of the school system. It's worked out well."
Lake Region Vocational Center Director David Morse informed the SAD 61 School Board Monday night that the change in service level at Bridgton Health Care could create problems for the school's Health Occupations program. CNA students went to Bridgton Health Care for their clinical work.
Morse said LRVC would seek a waiver through the state's department of education to see if clinical work can be done in the assisted living environment. If not, LRVC could look to Ledgewood in Windham. Morse pointed out that due to the distance to the Windham facility, the program might consider seeking clinical time on Saturdays (eight-hour shift).
"We thought we would continue on," Hicks added. "I call it kicking the can down the road. We kicked it far enough so it was time to retire."
Hicks expects to "put a bow" on the whole package by spring, at which time he and his wife will consider some travel plans.
Please follow and like us: