Barbara M. Kimball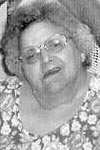 FRYEBURG — Barbara Marie Kimball, 79, of Fryeburg, passed away on Dec. 4, 2011, after a long illness at the Fryeburg Health Care Center, under the loving care of the nursing home staff and Hospice of Androscoggin County.
She was born in Stow on March 21, 1932, the daughter of Samuel and Ora Kimball. Barbara's father passed away in April of 1941, leaving her mother to raise their two children with no means of support. Consequently, she and her brother were taken away by the state to live at a foster home on Woodbury Hill in Auburn. She lived most of her life at the Woodbury Hill Farm.
Barbara worked at the farm doing housework and some work in the fields. She loved going to grange at Danville Junction, and later transferred her membership to the Fryeburg Grange, where she remained a member until her death.
After Woodbury Hill Farm closed down, Barbara moved to Fryeburg to be with her mother, Ora Kimball, along with Frank and Clara Estes of 21 Ice House Road.
She was predeceased by her mother, Ora I. Kimball and her father, Samuel W. Kimball.
She is survived by a brother, Earl S. Kimball of South Portland; many cousins, nieces and nephews.
A graveside service will be held at Pine Grove Cemetery in Fryeburg in the spring. Arrangements are made with Wood Funeral Home, Fryeburg. Online condolences may be expressed to the family at www.woodfuneralhome.org
In lieu of flowers, memorial contributions may be made to: Fryeburg Health Care Center, 70 Fairview Drive, P.O. Box 127, Fryeburg, ME 04037.
Please follow and like us: