Baklava, sweet for the palate
By Dawn De Busk
Staff Writer
CASCO – Don't get frustrated with the filo dough.
"A lot of people are intimidated by working with the filo dough. Filo is approachable as long as you keep it damp," according to Christina "Mina" Staples.
"The important thing is that it doesn't dry out. The most important thing is to keep it moist. Once you open the package, you cover the dough with a wet towel to keep it from drying out," she said.
Don't worry about failure, she said.
"There is enough in a package that if tear it or it dries out, you can start over," she said.
"It is regular dough that has been rolled and rolled into a paper-thin dough. It is extremely versatile. You can make sweet and savory dishes," Staples said. "It is the same dough for baklava or Stanannkopita (spinach pie). Or you can make chicken pie or lamb pie or sweet pie.
It is very versatile – you can fill it with cheese and fry it."
The pastry dough is called filo or phyllo, and one of the brand names is Athens Fillo Dough.
Staples – who owns the business My Mediterranean Kitchen – recalled her first experience working with filo dough, and how her mother encouraged her to keep trying and to keep the dough damp.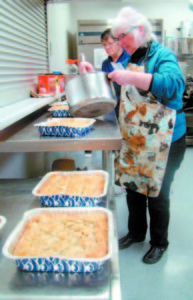 On the afternoon of Jan. 14, a half-dozen people familiarized themselves with filo through the hands-on experience of baking baklava in a group.
The class was offered through the Casco Village Library, but it took place in the Casco Community Center, which allowed participants to use the community kitchen.
Baklava is a sweet, layered pastry. Fresh orange peel is used for zest along with the spices cinnamon and clove. For a twist to satisfy a sweet tooth, chocolate syrup can be drizzled on the baklava while it is still warm from the oven, she said.
During the baklava baking class, "I did hear it wasn't as difficult as people thought it would be. Having it in a group is a good way to learn a recipe. Everyone is new. Everyone gets to talk and share. Everyone helps each other. Everyone is making mistakes. Nobody feels like it is impossible," Staples said.
Staples, who led the baklava baking class, owns a home-based business located in Naples. My Mediterranean Kitchen is the name of her business. She offers group and private cooking classes. The private classes are tailored to the person's needs.
Mediterranean dishes hail from Turkey, Greece, Italy, Israel and Croatia – to name a few countries.
"They all share a cuisine, the spice trades. There is a common thread to all of them," she said.
"The difference between Greek and Italian cooking is I use more basil when doing Italian and more oregano when I cook Greek," she said. "The difference of the cooking styles is the amount of spices used – the bright first flavor. Olive oil is ingredient in all of Mediterranean cooking. Each country has their olive oil. The olive trees like the air and the climate."
Staples was born in Greece with the maiden name of Xydias. (The X is pronounced like a KS.) Her family moved to New England when she was two years old.
"I grew up in Massachusetts," she said, specifically naming towns like Watertown, Somerville and Lynn. Her family settled into a community with strong roots to Greece.
"We spoke Greek and attended Greek Orthodox Church. Sunday dinner was roasted lamb or chicken. There was always a salad on the table," she said.
Her business, My Mediterranean Kitchen, is about expanding one's food boundaries and making eating a healthier and more enjoyable experience – if that is what the client wants.
She said she is willing to drive to Portland, Bridgton and surrounding towns and as far as Scarborough to do cooking classes or help individuals learn the Mediterranean style of cooking.
Currently, Staples has a few clients.
"I don't charge for consultation. I come to the consultation with a questionnaire on eating styles," she said.
The questions make certain to account for medical conditions and food allergies. Other questions include: In a typical week, how often eat do you eat meats, grains salads, snack? What is your family's favorite and least favorite meal? What is your favorite herb or spice?
"I want to know how you are eating, how many meals you prepare weekly, and how much time you want to spend in the kitchen," she said.
Some people have work schedule that make nightly cooking difficult so they can prepare meals in advance and freeze portions. Some people are interested in baking breads and desserts.
Perhaps the most important part of the consultation is that the client has a goal – an idea of what they are hoping to learn from the classes, she said.
"To me, cooking is therapy. I don't think of it as a chore," she said.
"As a society, we are not making healthy eating choices and often turning to fast food or processed foods," she said. "People are working harder. Family members have different schedules. But, we can still eat clean and healthy."
Eating clean and healthy "doesn't mean we don't have dessert. I love chocolate just like the next girl," she said. "Moderation, everything in moderation."
She recommended a variety of food sources so the taste buds don't get bored.
"Eating is using all five senses. You smell food; you see food; you feel food with your fingers; you taste food," she said.
She recommended taste-testing unfamiliar dishes or ingredient with an open mind.
"Don't go in with a preconceived notion – give it the 'old college try.' Be willing and open to trying something new."
"If we eat healthier and cleaner, it is better for our mental health our energy level," she said. "It's a lifestyle. It is about getting up and moving, and also about enjoying that cookie, that chocolate, that piece of baklava. And not feeling guilty about it because shouldn't we all deserve to have some chocolate?"
"An important thing – don't beat yourself up. There is always tomorrow to make a better choice," she said.
To contact My Mediterranean Kitchen for a personal consultation or to set up a group cooking class, call (207)239-5409 or email ninachristina@hotmail.com.
Please follow and like us: