Avesta files pre-application with Bridgton
By Gail Geraghty
Staff Writer
Avesta Housing, Inc. officials took some tough questions Tuesday after saying they opposed the town's efforts to create a Local Preference Ordinance giving first dibs to Bridgton residents for new apartment construction.
Repeatedly, Avesta Director of Programs Debora Keller cited one of their chief financing partners, Rural Development, as the culprit — the federal agency requires that their financing be for seniors or people with disabilities, and prohibits residency restrictions on such housing under the Fair Housing Act.
But when resident Mark Lopez pointed out that Massachusetts uses a lottery system in allotting units on a residents-only basis, Keller and Project Manager Matt Peters both said they would go back to rural Development with that information to see if a local preference requirement might still be possible.
"We're more than willing to explore that…but if Rural Development says we can't do it, and a local preference ordinance passes, we're done," Keller said.
There was considerable discussion about income requirements and just how many persons with disabilities might be living in the apartments. The qualifying maximum gross income is around $26,000, Peters said, of which 30% goes to pay rent. He acknowledged that some applicants may make much less than $26,000, in response to some audience members who challenged their statement that project residents would help the downtown economy by spending their disposable income at local businesses.
Keller said the project would bring $25,000 a year in property tax revenues to Bridgton, not to mention the benefit of local spending by construction workers during the building phase. At their Oak Street, Portland project, now being completed, a nearby restaurant "was filled every day, and they were sad to see it end," Keller said. She also said that residents of Avesta housing built elsewhere around the state are active in contributing to the community, not just by spending, but also through volunteering and service work.
Resident Chuck Renneker said it was "somewhat misleading" to promote the project as senior housing, since only one of the two persons that can reside in each one-bedroom apartment has to be age 62 or older. If, for example, the second person is a son or daughter, and 20%, or around five of the apartments are rented to persons with disabilities, Renneker said perhaps half of the project's residents would not be senior citizens.
Keller said the "senior housing" project status is defined by state and federal housing guidelines, and the description of the project as senior housing is accurate. Besides, she added, in Avesta's experience, it is "unusual" to have non-seniors apply for housing in a senior housing complex.
With regard to a Bridgton-only residency restriction, Keller pointed out that even without such a restriction, of 21 units rented to date at Avesta's 30-unit Park Street School Apartments, which opened the end of August, 11 have been rented by current Kennebunk residents, seven by people who used to live in Kennebunk and two others with Kennebunk ties.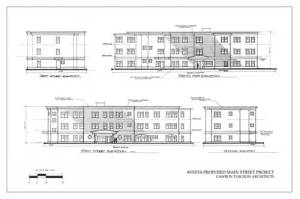 The Avesta officials said Community Dental is actively interested in renting a sizeable portion of the ground floor space, and the balance of the space could be used as a community room or rented for smaller office or retail concerns.
"It might be a good fit," Peters said of Community Dental, although it is still to be decided how their parking needs will be met without compromising desired green space planned at the corner of Main and Lower Depot Streets.
Peters said the amendments to downtown Shoreland Zoning that voters will decide Nov. 6 have been studied by Avesta and it appears the amendments will work with their development as planned.
As for the project's increased sewer capacity needs, the Avesta officials said they stand ready to assist the town in its current efforts to increase the capacity of the lower ballfield leachfield, but that until a study is completed later this year, they won't know what form that assistance will take and how much of it will be required. The project, which because of its financing must be located on the former Chapter 11 property in Pondicherry Square, will require a minimum of 2,500 gallons a day in sewer capacity, without considering ground-floor users such as Community Dental or another entity.
"We're willing to contribute as proportionate to our piece" of the needed field expansion, Peters said. He pointed out, however, that other Pondicherry Square businesses currently constrained by the sewer system will see a benefit too, not only from increased sewer capacity but also by the presence of the housing project in their midst.
Peters angered the audience momentarily when he said the concept of a local preference ordinance "doesn't hold a lot of water legally" according to Avesta's lawyers. Maine has no legal precedent for local preference, and "We're saying local preference invalidates fair housing laws" because it could be argued that Bridgton, like the rest of the state, has a predominately Caucasian population — thereby inherently causing a residency restriction to discriminate against persons of other ethnic backgrounds.
Both Avesta officials apologized for not communicating better with the public on its Bridgton plans and promised to do better, both through regular updates to the town and through The News.
Please follow and like us: