Austin J. Sloat, 17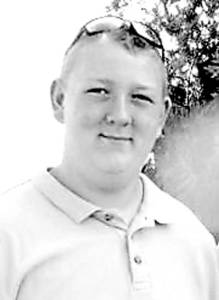 Austin John Sloat, 17, of Bridgton passed away Sept. 5, 2012 as the result of injuries sustained in a motor vehicle accident.
He was born in Portland on July 13, 1995, the son of Darrell W. Sloat and Kimberly J. Watson Pierce.
Austin was a senior at Lake Region High School. He had many goals he wanted to achieve, one being a truck driver. Austin was loved by many. He had an infectious smile. He was always rooting for the underdog, and always took care of his friends. A lot of people considered Austin their "best friend." Austin was willing to help anyone and will be missed by all of his friends and family.
He is survived by his mother, Kimberly J. Watson Pierce; his father, Darrell W. Sloat; his sisters, Maeghan Sloat and Mariah Sloat; his grandparents, Bill Wolf, Peggy Wolf and Jill Sloat; his stepfather, Bobby Pierce; as well as many aunts, uncles, and cousins.
Visiting hours were held Monday at Hall Funeral Home, 165 Quaker Ridge Road, Casco. A celebration of Austin's life was held at 2:30 p.m. Tuesday at Crooked River School on Route 11 in Casco.
Online condolences may be left for the family at hallfuneralhomeinc.com
Please follow and like us: