Anne M. Love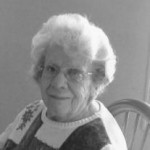 WINDHAM — Anne Moors Love, 96, of Harrison and Boxford, Mass., passed away on April 18, 2012.
Born on Jan. 8, 1916, she the was oldest daughter of Charles E. and Louise (Warner) Moors of Plymouth, N.H. Anne graduated from Plymouth High School as the valedictorian
of her class in 1933. After high school, she attended Simmons College in Boston, where she graduated as the salutatorian of her class in the spring of 1938.
Anne and her loving husband Nate were married on Sept. 5, 1942, and moved to Boxford, Mass.
When their children were of school age, Anne was hired as the secretary to the principal of the elementary school located in East Boxford. She worked in this position for the rest of her career while living in Boxford.
Anne and Nate retired in 1975 and moved to Bolsters Mills, where they spent over 15 years together in a peaceful, loving and enjoyable retirement.
Anne was predeceased by her father, Charles E. Moors; her mother, Louise Warner Moors; her beloved husband, Nathaniel N. Love Jr.; her brother, Dr. Charles E. Moors; and her sister, Helen Moors.
She is survived by her three children, Charles N. Love of Winthrop, Stephen D. Love of Scarborough, and Helen L. Herrick of Haverhill, Mass.; five grandchildren and three great-grandchildren.
A memorial service is scheduled for Saturday, May 12, 2012, at 11 a.m., at the United Parish UCC in Harrison.
Arrangements are in the care of Roberts Funeral Home, 62 Bowdoin Street, Winthrop. Memories, condolences, photos, and videos may be shared with the family on the obituary page of the website at www.khrfuneralhomes.com
In lieu of flowers, those who wish may donate to: The United Parish UCC of Harrison and North Bridgton, 77 Main St., Harrison, ME 04040.
Please follow and like us: