Annaleigh L. Heino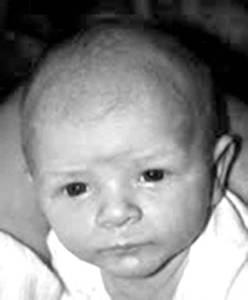 NORWAY — Annaleigh Louise Heino of Waterford, passed away Monday, July 30, 2012 at Stephens Memorial Hospital.
She was born in Norway on June 14, 2012, the daughter of Johanna Miles and Eric Heino. Though she wasn't here very long, she was dearly loved and will be greatly missed. "Let the little children come unto me … for the Kingdom of Heaven belongs to such as these!" (Matt 19:14)
She is survived by her parents, Johanna and Eric; brothers and sisters, Rylen and Jillian Edwards, Sayla Miles and Abby Heino; maternal grandparents, Maria and Blaine Whitney Sr. of Norway; paternal grandparents, Diane and Ed Heino of Waterford; maternal great-grandparents, Anmarie Bellofatto of Manchester, N.H., and Joseph D. Bellofatto of Myrtle Beach, N.C.; paternal great-grandmother, Ruth Smith of Livermore Falls; four cousins and numerous aunts and uncles.
She was predeceased by her paternal great-grandfather, Thomas Cushman.
Funeral services were held on Sunday, Aug. 5, at 3:30 p.m. with Pastor Dallas Henry officiating at Oxford Hills and Weston Funeral Services, 1037 Main Street, Oxford.
In lieu of flowers, donations may be made in Annaleigh's memory to Norway Savings Bank, P.O. Box 347, Norway, ME 04268.
Online condolences may be expressed to the family at www.oxfordhillsfuneralservices.com
Please follow and like us: