Alfred L. Butler Jr., 83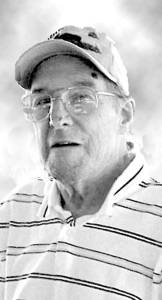 KENNEBUNK — Alfred Leo Butler Jr., — "Al" to one and all — 83, of Kennebunk and formerly of Reading and Dorchester, Mass., died on Tuesday, Oct. 9, 2012, at his residence following a long illness.
He was born in Cambridge, Mass., on Aug. 14, 1929, the son of Alfred Leo Butler Sr. and Evelyn M. (Perry) Butler. He grew up in Dorchester before moving to Reading, where he graduated from Reading High School. He continued on to college, earning his bachelor's degree from Boston College.
Following college, he was drafted into the United States Marine Corps, where he served from 1951 to 1959.
Al met his future wife, the former Elaine Isabella Keppe, in 1958. Al's brother was dating Elaine's sister, and a date was arranged. They were married on May 31, 1958, and celebrated their 54th anniversary this year. And, yes, Al's brother married Elaine's sister!
He was employed as an inspector at Stone-Webster Company for over 28 years, retiring in 1991.
Al enjoyed sports of all kinds. In his younger days, he was an outstanding softball player. In later years, he coached his sons' hockey teams. He was a member of Holy Spirit Parish/St. Martha's Church in Kennebunk. He was also a former member of the Knights of Columbus.
Al was predeceased by a son, Brian William Butler; and by two brothers, Gerald and Robert Butler.
Survivors include his loving wife of 54 years, Elaine Butler of Kennebunk; five children, Alfred Butler of Casco, Lenane Butler of Ocean Park, Wash., Michael Butler of Kennebunk, Paul Butler of Milford, N.H. and Denise Elliott of Seattle, Wash.
Calling hours were on Monday, Oct. 15, 2012 at Bibber Memorial Chapel, 67 Summer Street, Kennebunk. A memorial Mass was celebrated on Tuesday, Oct. 16, 2012, at Holy Spirit Parish/St. Martha's Church, 30 Portland Road, Kennebunk. Arrangements are in care of Bibber Memorial Chapel, 67 Summer Street, Kennebunk.
Should friends choose, memorial donations in his memory may be made to: The American Lung Association of Maine, 122 State St., Augusta, ME 04330.
Please follow and like us: