Albert S. Carey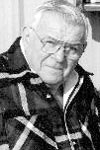 WATERVILLE — Albert S. "Jim" Carey, 89, of South Paris died Thursday, Nov. 17, 2011 at the Oak Grove Center Assisted Care facility.
He was born in Mexico on April 29, 1922, the son of Walter and Louella Jones Dower. He attended schools in the Rumford area and graduated from Paris High School. During World War II, he served his nation as a welder in the Portland Shipyard. He also proudly served in the Maine State Militia that was activated by the governor during that challenging time. After the war, he spent many years working at the Paris Sled Factory, operated Carey's Market on Gothic Street in South Paris and then worked for the A. C. Lawrence Leather Company for several years.
Not one to sit idle, he immersed himself in public service, serving in many capacities including selectman in the Town of Paris and in Oxford County government. He is, perhaps, best remembered by many as the longest serving County Commissioner to ever serve in Maine, having served as commissioner for over 26 years. In addition to service to the county, he spoke often and fondly of his tenure in Civil Defense/Civil Emergency Preparedness in the 60s and 70s, and his 26 years as a volunteer fireman for South Paris and several years as the town manager of Harrison. He was a past president of the Maine County Commissioners Association, a member of the First Congregational Church of South Paris and enjoyed hunting at camp with family and friends. He was active in town affairs and a member of the Maine Municipal & Tax Collector's Association, as well as Oxford County Agricultural Society; he had served many years on the Paris Town Budget Committee, was a life member of the Fish and Game Association and Paris Chamber of Commerce. He was past president of the Paris Alumni Association, past alternate member of Androscoggin Valley (Paris), past member of Paris Grange, a member of Paris Lodge #94 AF & AM and the IOOF. He was also past president and treasurer of the Paris Republican Town Committee and a trustee of Riverside Cemetery Association. Jim leaves an enduring legacy of stellar personal values, integrity and determination in both his private and public life that is well worth emulating.
He was unabashedly "old school," where a handshake was all it took to seal an agreement, or to make a friend, but he reserved hugs for his children, grandchildren, nieces and nephews. Despite his exceedingly busy escapades in county and town government, Jim still did a superb job of raising and caring for his family and maintaining an active social network composed of hundreds of friends.
He is survived by two daughters, Judith Fox and Sandra MacGown; a son, Nelson Carey; and many grandchildren, great grandchildren, and great great grandchildren.
He was predeceased by his loving wife, Frances, in 1986; and a sister.
Funeral services were held on Wednesday, Nov. 23 at 2 p.m. at Chandler Funeral Homes & Cremation Service, 45 Main Street, South Paris with interment following at Riverside Annex Cemetery in South Paris.
Donations in his memory can be made to the Paris Alumni Association, c/o Raymond Glover, 57 Mountain View Drive, South Paris, ME 04281.
Please follow and like us: