Albert J. Fox, 74
STONEHAM — Albert J. Fox, 74, of Stoneham, died unexpectedly Thursday, April 5, 2018.
He was born on April 1, 1944, in Lovell, a son of Charles Hamlin and Iva Carrie (Kendall) Fox. He attended local schools, graduating from Fryeburg Academy in 1962.
A few short years after graduation he married Mary Taylor in Lovell. They made their home in Stoneham and have been fixtures in the community for decades.
As a young man he worked for Grover Lumber and later at AC Lawrence. It was a career as a TV repairman that he was most known for, starting with Western Auto, Don's TV and eventually with his own business.
Albert served as the Fire Chief for the Town of Stoneham for 35 years and was a charter member of the department in the early 1970s, as well as the Stoneham Rescue in the late 1970s.
He was a member and past president of the Western Maine Fire Association, and Oxford and Cumberland Fire Chiefs Associations. He served the town as a selectman and was a longtime member of the Stoneham Knight Riders snowmobile club.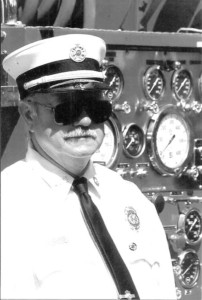 Albert enjoyed the outdoors — hunting, fishing, golfing, camping and snowmobiling, but all of those interests pale in comparison to that of which he had in his family, particularly his children and grandchildren.
He is survived by his wife, Mary of Stoneham; children, Wendy Hammond and her husband, John of Gorham, Mike Fox and his wife, Jodi of Waterford, and Greg Fox and his significant other, Julia of Stoneham; six grandchildren, Taylor, Joseph, Matthew, Victoria, Courtney, and Lillian; three great-grandchildren, William, Mathayus, and Leanne; siblings, Paul Fox of Monmouth, Peter Fox and his wife, Cindy of Stoneham, Larry Fox of Lovell, Linda Allen of Waterford, Stephen Fox and his wife, Susan of Lovell, and Rosemary Fox of Mason Twp.; and several nieces and nephews. He was predeceased by his parents; a brother, Fred Fox; a brother-in-law, Neil Allen; sisters-in-law, Iva Fox and Bonnie Fox.
Family and friends were invited to call from 6 to 8 p.m., Monday, April 9, at the Chandler Funeral Home, 45 Main St., South Paris. Funeral services were held at 11 a.m., Tuesday, April 10, at the funeral home. Interment will take place later this spring at the Hillside Cemetery in Stoneham. Gifts may be given in Albert's memory to the Stoneham Fire Department, 47 Butters Hill Rd., Stoneham, ME 04231, or to Stoneham Rescue, P.O. Box 31, Stoneham, ME 04231. Words of condolence and tribute may be shared with Albert's family at www.chandlerfunerals.com
Please follow and like us: