A happy reunion with Scooby
By Deb Cloutier
Special to The News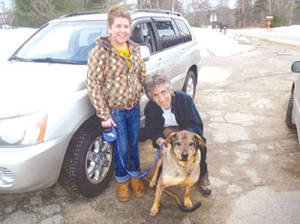 Sept. 25, 2010 was not a day Bob Jones will ever forget.
Six months ago, Jones was in a serious motorcycle accident in which he sustained a broken neck and fibula, a compound fracture of the tibia and a crushed heel.
Jones' friend and passenger, Cindy Normand, also received a compound femur fracture.
After spending a week in the hospital, Jones was sent home to mend, however, continued to see multiple doctors and surgeons. On Nov. 11, nearly two months after the accident, doctors determined his foot was not healing and removed his lower leg. Eventually he was fitted with a prosthetic.
From the date of the accident, someone else was also suffering — Jones' 10-1/2-year-old dog, Scooby. Because Scooby was a large dog and a lot to handle, family members were unable to care for him and brought him to Harvest Hills Animal Shelter. Jones, who knew he had a long road to recovery ahead of him, and would not be able to properly care for the dog he loved so much, reluctantly agreed to surrender his best friend. Along with the physical injuries he was dealing with, it broke Jones' heart to say goodbye. Knowing HHAS was a no-kill shelter and that he would be well cared for, Jones and his family were hopeful that a loving family would adopt Scooby in no time.
For nearly six months, Scooby waited for another family to bring him home. While Scooby was a favorite of all the HHAS staff and volunteers, his age definitely played a part in his not being adopted. Even his silly, young-at-heart personality, and all attempts by his "HHAS Fan Club" could not convince someone to adopt him. So, he waited.
But in this case, it turned out to be a good thing.
On March 18, Scooby and Jones were happily reunited. In typical Scooby form, he ran to Jones and rubbed up against the man he loved so much, and then ran to the doggie toy box in the lobby to show his dad all the fun stuff inside. Of course, it was an emotional time for everyone witnessing the reunion.
Though it is not common practice for the shelter to "foster" an animal while its family is going through tough times (for space reasons), in this case Jones always made it clear that if Scooby were still at the shelter at the time when he felt he was ready to care for him, then he wanted to bring him home again.
HHAS staff had only heard good things about the relationship between Jones and Scooby; that he was loved and very well cared for. So, there was no better news to shelter staff when they got Jones' call that he would be in to "adopt" his best friend.
Regarding HHAS' role in their reunion, Jones said, "Harvest Hills and all the people that work and volunteer there are a Godsend and I can't praise them or thank them enough. We are fortunate to have them in our town."
And when asked how Scooby reacted to being home again, Jones added, "He picked right up where he left off, following me from room to room, and he's back to sleeping next to my bed. It's nice to wake up to my best friend again."
Please follow and like us: