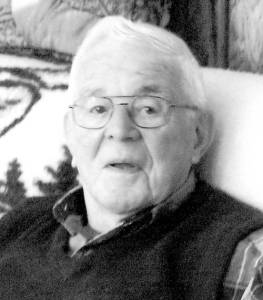 NORWAY — Louis Wyllard Andrews, 93, of Harrison passed away at Stephens Memorial Hospital in Norway on Friday, Sept. 7, 2012 while surrounded by family after a brief illness.
He was born on March 25, 1919 in Casco, a son of Guy Bertram Andrews and Georgia Mae Lewis Andrews.
He loved gardening and fishing. He was an active member of the Harrison Seventh-day Adventist Church. He was a hard worker, independent and loved his family dearly. He will be missed by all who knew him.
He is survived by seven children, Carol Guy of Harrison, Stephen Andrews of Harrison, Thomas Andrews of Waterford, Keith Andrews of Harrison, Gene Andrews of Lovell, Donald Andrews of Sweden and Kimberly Gadway of Harrison; 17 grandchildren; 17 great-grandchildren; and three great-great-grandchildren.
He was predeceased by his wife, Joan Chandler Andrews, of 57 years.
A funeral service was held on Wednesday, Sept. 12 at 11 a.m. at the Harrison Seventh-day Adventist Church followed by a graveside service at 2 p.m. at the Lewis Cemetery on Lewis Road, off of Route 35 in Harrison.
In lieu of flowers, donations may be made in Louis' memory to the Harrison Seventh-day Adventist Church.
Arrangements under the care of Oxford Hills and Weston Funeral Services, 1037 Main Street, Oxford. Online condolences may be expressed to the family at www.oxfordhillsfuneralservices.com
Please follow and like us: